Posted on September 13, 2022 by Paulene @ Slow Cooker Central 8 comments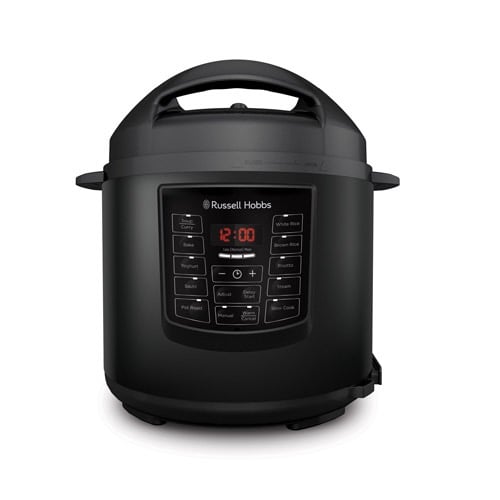 RUSSELL HOBBS 11-IN-1 DIGITAL MULTICOOKER
Today we are going to review the machine that does it all!
11 in 1 cooking options in one compact and classy unit, from Russell Hobbs
Stunning isn't she!
Let's start with the breakdown of what this multi-function unit can do … because it's A LOT!
8 EXPRESS PRESSURE FUNCTIONS

Bake
Curry
Soup
Risotto
Steam
Pot Roast
White Rice
Brown Rice
The Russell Hobbs multi cooker has pressure cooking functionality that is specifically designed to safely control the steam pressure and temperature during cooking.
When liquid inside is boiled, steam builds up and creates pressure. This pressure allows the temperature to rise above the normal 100 degree boiling point and creates a superheated vapour that has the cooking potential several times greater than standard cooking methods.
INCLUSIONS:
6L capacity removable, dishwasher safe, non-stick cooking pot in one multi-purpose matte black unit
Detachable power cord, great for easy space efficient storage
Serving spoon holder on exterior of unit
Serving spoon included
Metal trivet included
Measuring cup included
Recipe booklet with 25 recipes to get you started included
2yr warranty
FEATURES:
11 pre-programmed menu selections with the option to adjust these pre-set cooking times

Delay start function
As always, this feature should never be used when cooking perishable food items like meat, dairy, eggs, poultry or fish etc as it is not food safe. But it may be useful for you when cooking other dishes like rice.

Keep warm function
This cooker will automatically switch to keep warm mode after your programmed cooking time has elapsed. This keep warm temperature is 60-80 degrees C.
Never use this mode to heat or reheat already cooked foods.
As with all keep warm options it isn't always ideal for all dishes and as a general rule my personal preference is no longer than 2hrs on warm before serving for best results.
LET'S NOW LOOK AT THE COOKING FUNCTIONS …
BAKE

This setting will enable you to cook baked items like cakes, desserts and puddings. You can make use of the trivet to raise your cake tin or ramekin etc off the bottom of the cooker (water is added below the trivet)

CURRY/SOUPS

Create delicious curries, stocks and soups in minutes under pressure.
Be sure to halve the liquid from your traditional recipes though to cook it in this way

RISOTTO

Cook risotto without the need to constantly stir like other methods.
The included recipe book for 2 great risotto recipes to get you started

STEAM

Steam vegetables, seafood, dumplings and dim sims with this setting
Sit your steamer basket on the included trivet over some water when using this function

POT ROAST

Take your Sunday roasts and slash your cooking time. Roast beef, pork, lamb and whole chickens all cook in a fraction of the time of traditional ovens.

WHITE RICE & BROWN RICE

This cook setting will create delicious fluffy rice every time.
From basmati, jasmine, long grain or brown – it's got you covered!

YOGHURT

Create your own creamy delicious yoghurt.
All you need to get started is some milk and a starter (eg plain yoghurt)

SAUTE

This is your setting for browning or caramelising ingredients, or even toasting rice for your risottos. It cooks at a medium-high heat like a traditional stove top.
Read all about the reasons to sauté/brown first HERE

SLOW COOKING

Let's be honest, this is to us, the BEST feature of all! *wink*
The default slow cooking time is 4hrs but it can be adjusted depending on your recipe requirements within a range of 2hrs to 10hrs.
Because of the nature of the lid you can not use the Tea Towel Trick in this unit or cook slow cooker recipes that need a large cooking surface area/base area etc or variation in high/low temperature settings. That's a limitation on most multicooker units, not just specific to this one. You can overcome this though by pairing your multicooker along with a traditional slow cooker in your kitchen cupboards. Having both means you have the benefits of both worlds!
Slow, fast, soups, stews, roasts, rice or risottos – you can have it all!

ALL THE FINE DETAILS AND IMPORTANT PARTS!
With pressure cooking comes a lot of detailed instructions and safety considerations.
The included manual is VERY informative and detailed on every aspect of your unit and how to use it so before you start cooking take the time to sit down and read it cover to cover.
It will tell you every detail of every step, settings and troubleshooting too so you'll feel confident to get cooking!
RRP: $149.95 AUD
Available: Good Guys, Big W, Harris Scarfe, Better Home Living, Retravision,
Amazon, Bi-Rite, Billy Guyatts, Stan Cash