Submitted by Narelle Youngs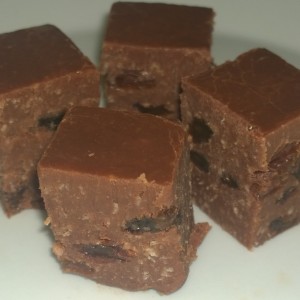 Rum Ball Fudge
Ingredients
750 grams milk chocolate

1 can condensed milk

100 mL rum

1 cup raisins

1 cup coconut

100 grams crumbled sponge cake
Instructions
Break up chocolate and put in the slow cooker insert.

Pour half the condensed milk on top and mix the rum into the remaining milk.

Add the rum flavoured condensed milk into the slow cooker.

Cook on high for approximately 1hr, stirring every 10 to 15 minutes until a crust forms on top between stirrings.

Mix through the raisins, coconut and sponge cake.

Pour into a lined tray and place in the fridge to set.

When set, remove from the tray and cut into squares.