Submitted by Gail Follett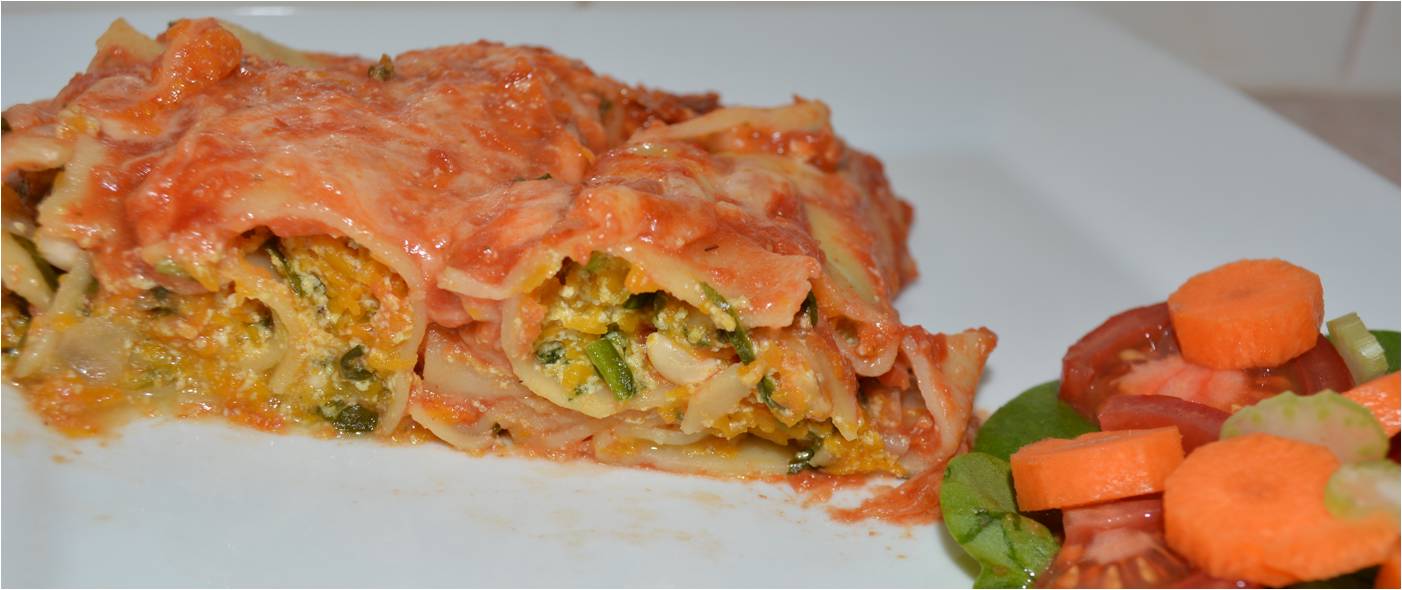 Roast pumpkin, Spinach and Ricotta cannelloni
Ingredients
Ingredients:

3/4 small butternut pumpkin (cubed and roasted)

1 tblsp olive oil

1/4 tsp ground nutmeg

2 x 410g tins crushed tomatoes

1/4 tsp oregano

1 tblsp sugar

2 cloves garlic

1 brown onion

250g ricotta

100g fresh baby spinach (finely chopped)

1/2 cup grated parmesan cheese (reserved half for top)

4 - 6 fresh lasagna sheets (roll filling into)

2 cups grated mozzarella cheese

Pinch of salt and pepper

1/3 cup pine nuts (optional)
Instructions
1) Sprinkle pumpkin with nutmeg, drizzle with olive oil and roast.

2) In saucepan saute onion and garlic (set aside to cool).

3) In a large bowl, mash roasted pumpkin, then add spinach, ricotta, half of the Parmesan cheese, onion and garlic (and optional pine nuts) until well combined.

4) Cut each lasagna sheet into thirds, and place pumpkin mixture along the length of each sheet, then roll and form into a tube (resembling cannelloni). Lay each roll into bottom of slow cooker.

5) Combine tomatoes, oregano, sugar, salt and pepper then pour over the top, and cover with mozzarella and remaining Parmesan cheese.

Cook on high for 2 - 3 hours (pending on your slow cooker) or until pasta is cooked and cheese is melted.

Note:

If crushed tomatoes are too chunky for your liking, you can blend them down to a smoother consistency.