Submitted by Jane Galloway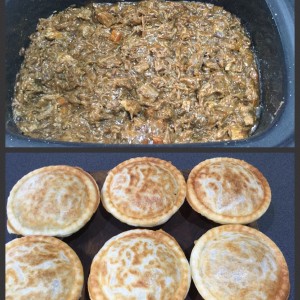 Roast Lamb Pie
Ingredients
Leg of Lamb( I used 1.5kg)

1/3 Cup Mint Sauce

1/2 onion, diced

1 Carrot, diced

1packet of French onion soup mix

Graves to thicken

Puff Pastry
Instructions
Add all ingredients to the slow cooker, cook on low for 12 hours.

Once it is cooked let it cool slightly, take the lamb out and shred the meat.

After shredding the lamb, Turn your slow cooker up to high to thicken the juices, add 2-3tablespoons of gravox to thicken the juices ( you may need to add a bit of water to get the right thickness.

Once thickened add lamb to sauce.

Cut puff pastry to size and cook in a pie maker or in the oven till golden brown.
Notes
I got approximately 20 pies out of this mixer.

You could add more vegetables if you desire or a little bit more mint sauce to suit your taste, or make it as one big pie.