A gluten free roast beef recipe that is amazing delicious and also works with chicken and lamb.
Submitted by Tanya Matthews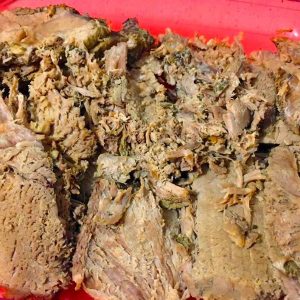 Roast Beef
A gluten free roast beef recipe that is amazing delicious and also works with chicken and lamb.
Ingredients
2.3kg beef topside roast

Vegeta

Salt

Pepper

2 teaspoons Garlic

Lemon juice

Rosemary

1/3 large green Capsicum

1 Medium/ large Onion
Optional
Sweet potato

Desiree potatoes

Carrots
Instructions
First off divide the onion and the capsicum in to 3 pieces and place them out on the bottom of the slow cooker. Add no more than 1cm of water to the slow cooker.

Next I prepare my roast in my sink. I make sure my sink is clean before I start.

After the roast is taken out of the packaging I rinse it off in cold water.

I rub 2 heaped teaspoons of crushed garlic in to the roast, while evenly spreading the garlic all over the roast.

Then sprinkle vegeta, salt, pepper, rosemary all over the roast. Rub it all in to the roast with the garlic.

Add the roast in to the slow cooker placing it on top of the onion and capsicum. Lightly splash lemon juice just over the top of the roast.

Optional vegetables. You don't have to but I always add in what potatoes my family will eat. I just peel them and add them in whole. I also add in carrots, again peeling them and cutting off their ends, and the same with the sweet potato. I sprinkle only vegeta over the vegetables. You can serve additional vegetables of your own choice with this roast.

Put the lid on. Turn the slow cooker on low and leave for 7+ hours depending how cooked you wish it to be. Or 5-6 hours on high.
Notes
If you wish to test if the beef is cooked, (be mindful not to burn yourself and to watch for splashes from any surrounding liquids.) Use a fork, press the fork decently in to the meat, try lift the beef a little with the fork, if the beef slides off the fork easily it is cooked, if the beef lifts up on the fork then the beef needs longer cooking. You can also tell just by pressing the fork in to the beef if it is cooked, as the fork will easily slide in to cooked beef where as it will be very tough trying to push it in to beef that needs longer cooking. For pulled beef you need to cook the roast till it is falling apart when you test the meat.

The ingredients use for the beef also work amazingly with roast chicken and roast lamb. It is a gluten free option
Cheats gravy
I use "gravox" brand instant gravy. Follow the directions on the label but instead of using boiled water from a jug/kettle, use the water from any boiled/ steamed vegetables as it is so much better and nicer tasting.