Submitted by Geoff A Williams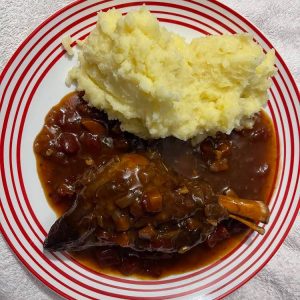 Rich Gravy Lamb Shanks
Lamb Shanks in Rich Gravy Sauce
Ingredients
2 lamb shanks

I carrot diced

2 onions chopped

4 cloves chopped garlic(or to your taste)

1 Can diced tomatoes

1Tbs Worcestershire sauce

1Tbs Soy Sauce

1Tbs Oyster sauce

1cup beef stock

1/2 cup red wine

2Tbs gravy powder mixed in 1 cup water

2 sprigs fresh Rosemary torn off stem

Small amount fresh thyme
Instructions
Brown shanks in oil in pan, remove and place in slow cooker.

Cook onion, carrot and garlic in meat juices in pan until onion translucent. Place on top of shanks in slow cooker.

Pour wine into pan and heat to loosen leftovers from meat and onion etc, and pour over top of shanks.

Add can of tomatoes and stock to slow cooker.

Mix gravy powder with water, add Soy, Worcestershire and Oyster sauces. Pour over shanks.

Add rosemary and thyme and cook on low for 8 hours or until meat is tender.

I removed the shanks after 8 hours and put them in the oven to keep warm while I thickened the gravy with a bit of corn flour mixed in water.

Obviously this has to be served with mashed potato!!