Submitted by Amanda Kenwright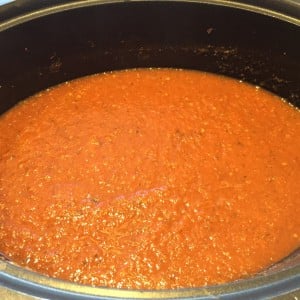 Red wine and Garlic pasta sauce
Ingredients
2kg tomatoes chopped

1 leek chopped

1 cup red wine

4 tsp minced garlic

5 Tbsp Italian herbs (or to taste)

Salt and pepper (to taste)
Instructions
1. Place all ingredients in slow cooker and cook on low for 8 hours, stirring occasionally.

2. Blend with stick mixer until it's a smoother consistency.

3. Perform taste test to see if it needs any more seasoning.

4. Transfer to sterilised jars or into freezer bags for freezing in batches.
Notes
Dried herbs and minced garlic can be swapped for fresh if desired.

Onion can be substituted for leek if desired also.