Submitted by Mark Wicks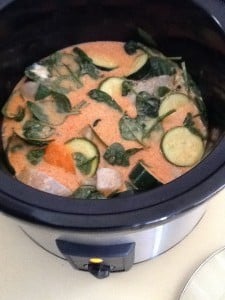 Red Thai Fish Curry
Ingredients
3 fresh fish fillets (approx 500grms)

200 grams of baby spinach

1 Large carrot

2 medium zucchini

100 grams Red thai curry paste

One tablespoon of minced garlic

One 400 gram coconut cream can

3/4 cup of water
Instructions
Slice fish into chunky strips.

Slice carrot thinly.

Slice zucchini thickly.

Add carrots followed by zucchini to the slow cooker.

Add curry paste and garlic.

Then place fish strips on top.

Add 3/4 cup of water.

Place the baby spinach on top followed by the coconut cream.

Cook on high for 4 hrs stirring twice. Finish the last two hours on low.

Serve in bowls with a side of steamed rice.