Submitted by Robyn Clark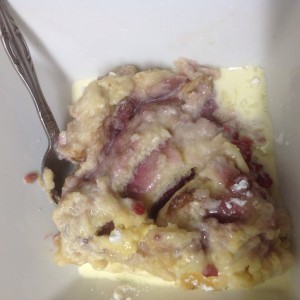 Raspberry Ripple Bread & Butter Pudding
Ingredients
5-10 slices of bread ( leave the crusts on , I used 5 slices .)

2 Tablespoons sugar

1 cup of fresh or frozen raspberries

2 eggs

1 1/2 cups milk

4 Tablespoons sugar

1 teaspoon vanilla
Instructions
Butter bread on one side and cut into triangles. Line the bottom of your cooker butter side down. Layer some raspberries and sprinkle with a bit of sugar. Continue until all layers are done.

Warm the milk with the sugar ( 6 tablespoons) and vanilla. Add to the eggs whisking until all combined and lots of air bubbles. Pour over the bread and raspberry layers. Cook on high 1-2 hours , tea towel under the lid. Serve with cream or IceCream ,dust with icing sugar .

This was made in my baby 1.5 cooker, if you want to make it bigger then use 8-10 slices of bread , 3 eggs and 2 cups of milk.