Submitted by Joanne Powell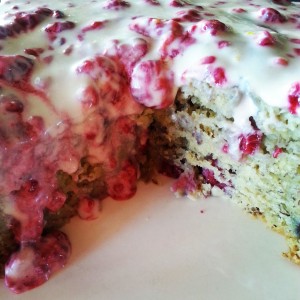 Raspberry and Banana Cake
Ingredients
2 1/2 cups self-raising flour

3/4 cup stevia

2 eggs

2 mashed banana

1/2 cup of milk

5 tbs 60% less fat margarine

2 teaspoons vanilla essence

2 cups frozen raspberrie

1 tsp bicarb soda (optional)

Topping

1tbs 60% less fat margarine

1 tub of reduced fat Philadelphia cream cheese

1/4 cup icing sugar

1/2 cup frozen raspberries

1tbs of lemon or orange zest
Instructions
Step 1

Melt margarine, vanilla, and stevia. Once slightly cooled, add the eggs and mashed banana, milk and bicarb soda mix well, don't beat. Stir in flour until just combined. Gently fold in the raspberries. Pour into the prepared sc with glad bake. Smooth the surface. Cook for about 4 hours on high but you will need to check centre with fork as SC are different.

Step 2

To make the raspberry icing. Make sure cream cheese is at room temp use an electric beater to beat the butter and icing sugar in a bowl, add zest and fold in raspberries.

Ps real butter can be substituted for margarine.