Submitted by Rebecca Edwards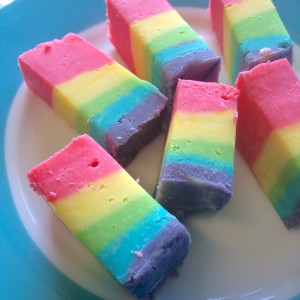 Rainbow Fudge
Ingredients
2-4 bags of white cooking chocolate (depends on size of your loaf pan)

1-2 tins of sweetened condensed milk ( 1 tin per two bags of chocolate)

1 tablespoon of real butter

1 teaspoon of vanilla extract

Food dye (red, blue and yellow and to make all colours)

Loaf pan

Ceramic bowl (to blend dye into portioned fudge mix)

Baking paper

Spoon

Ladle
Instructions
1. Add your white cooking chocolate and condensed milk into your slow cooker on low heat. Also add butter and vanilla extract.

2. Stir every 15 minutes or so.

3. Line your loaf pan with baking paper.

You may find that a 'skin' has formed in between stirring, this is fine. Stir again until dissolved.

4. After about 90 minutes you should have a smooth homogenous (evenly combined) mixture.

5. Using a ladle poor a quantity of liquid fudge into the ceramic bowl and blend a few drops of food dye until desired shade is achieved. Work fairly quickly and pour into your lined loaf pan. I found using a knife to blend worked very well.

6. Place your loaf pan in the fridge for about 5-10 minutes. During this time rinse the bowl and knife ready to blend the next colour.

7. Repeat steps 5 and 6 until you have used an even amout of mixture to create the number of layers you desire.

8. Refrigerate approximately 5 hours then using a clean knife, cut fudge into desired thickness.

TIP: you could cut slices off then use an appropriately sized cookie cutter and cut themed shapes out!