A quick and easy dish of gnocchi cooked in a tomato sauce perfect for cold nights in. With only 2 ingredients, this comfort food is yummy and healthy! 🙂
Submitted by Keryn Wolff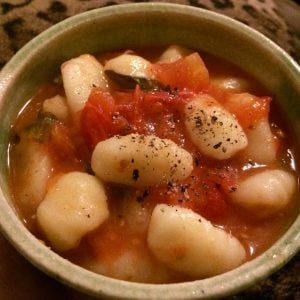 Quick and Easy Gnocchi
A quick and easy dish of gnocchi cooked in a tomato sauce perfect for cold nights in. With only 2 ingredients, this comfort food is yummy and healthy! 🙂
Ingredients
1 500 g packet of gnocchi (not frozen), or alternately make your own (its easy, its just a dough made from mash veggies, typically potato, and flour)

1 large jar or bottle (600-700 g) of tomato pasta sauce in a flavor of your choice. I used a home made one that I had bottled previously.
Instructions
Add your gnocchi to the bowl of the slow cooker.

I used a 1.5 lt mini slow cooker

Add the tomato pasta sauce to the gnocchi.

stir the ingredients together.

If your pasta sauce is quite thick, you may like to add a dash of water to thin it out as the gnocchi will absorb some of this.

Cook on high for approximately 1.5 hours, stirring occasionally.

This should serve 2 as a main with topping of fresh herbs or other topping of choice, or for 4 serves as a side to a fresh green salad or as you desire.