A beautiful full flavoured slow cooked soup
Submitted by Tanya Clarke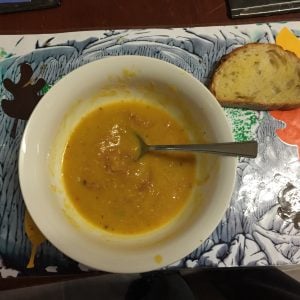 Pumpkin n Ham Hock soup
A beautiful full flavoured slow cooked soup
Ingredients
Approx 1kg Ham Hock fat trimmed off.

Approx 1.25kg pumpkin

1 carrot finely chopped

2 medium potatoes finely chopped

2 sml parsnips finely chopped

1 leek diced

4 sml bay leaves

2-3 cloves crushed garlic

Tbsp herb and garlic seasoning

1 tsp ground ginger

1 tbsp turmeric

1-2 tbsp curry powder.

Pepper to taste

3ltrs chicken stock

1 tsp hot paprika

8 splashes tobasco sauce

2 tbsp gravy flour

250 ml cream
Instructions
Place all of the above ingredients except for cream n gravy flour into slow cooker on high for 6-7 hrs.

After this time add cream and gravy flour, remove ham hock and shred meat the bone n remove any excess fat n grissel. Then put back into SC.

I left on high for approx a further 1hr so soup thickens up.

Depending on how thick you like ur soups you may want to use less liquid and add more gravy flour at the end.

Serve and enjoy with your favourite bread.

ENJOY. ?
Notes
You may put more or less of the herbs n spices, depending on what flavour u want, but this is how I made it.

I used a 5.5lt slow cooker, u will need to use less ingredients if u have a smaller one n more if u wish in a bigger one.