Submitted by Felicity Barnett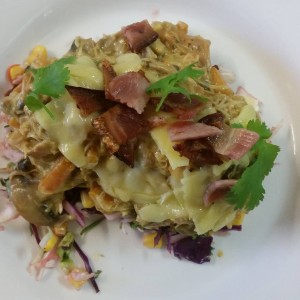 Pulled Cheesy Chicken
Ingredients
1.5 - 2kgs Chicken thighs

1/2 kg Baby Carrots or thick sliced

1 large Onion, diced

4 Cloves Garlic, crushed

750 gms Mushrooms (swiss and button, sliced

250 mls Chicken or Vegetable stock

250 gms Cream Cheese (I'm using Liddells LF)

1 tblspn Parsley, fresh

1 tblspn Basil, fresh

1 tblspn Marjoram, fresh

1 tblspn Oregano, fresh

1 tblspn Thyme, fresh

1 tblspn Coriander, fresh

1/2 tblspn Rosemary, fresh

3 Bay leaves, fresh

1/4 tspn Cumin

1 tsp Turmeric

2 tspns Brown Sugar

pinch Cracked Pepper

Juice of 1 Lemon, small

2 tblspns Cornflour
To serve
4 rashers Bacon

150gm shaved Cheese
Instructions
Place carrots in bottom of slow cooker bowl.

Sit chicken on top.

Tip vegetables, herbs and cream cheese over chicken.

Combine stock, lemon juice, cumin, tumeric, sugar, pepper and cornflour in a jug. Pour over everything in slow cooker bowl.

Cooking high 5hrs (Contempo 5.5L sc)

Remove bay leaves and shred.

While shredding grill bacon until crispy.

Bacon can be stirred through prior to serving or scattered over the top.

Scatter shaved cheese over top.