Submitted by Amanda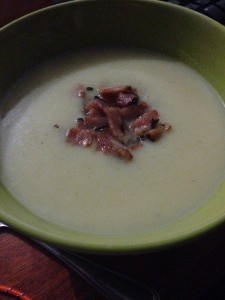 Potato and Leek Soup With Bacon Bits
Ingredients
2 tablespoons olive oil

3 leeks, white part only, chopped

3 garlic cloves, crushed

1.125 liters (39 fl oz or 4 1/2 cups) chicken or vegetable stock

1 kg (2 lb 4 oz) all-purpose potatoes, peeled and coarsely chopped into 2 cm dice

250 ml (9 fl oz or 1 cup) milk or cream

Salt & pepper to taste

Bacon pieces to serve, optional
Instructions
Heat the olive oil in the insert of your slow cooker or frying pan over low heat. Add the leek and garlic and cook for 5-6 minutes, or until softened.

Return the insert pan, if using, to the slow cooker, or transfer the leek mixture to the slow cooker. Add the stock and potatoes. Cover and cook on high for 3 hours, or until the potato is very tender.

Near serving time, fry the bacon pieces in a frying pan until crispy.

Add the milk or cream to the slow cooker. Pure the mixture until smooth, using a hand-held stick blender or food processor. Season to taste with sea salt and freshly ground black pepper.

Ladle into bowls and top with the bacon bits.