A tasty slow cooked chicken and leek dish
Submitted by Deanna Rankin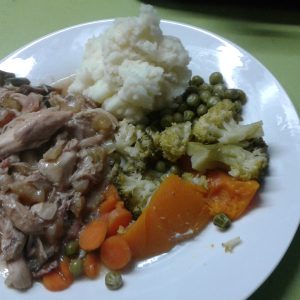 Potato & Leek Chicken
A tasty slow cooked chicken and leek dish
Ingredients
1-1.5 kg of chicken (I use a small full chicken)

1 tin of Campbells Country Ladle Potato & Leek soup

4-5 Shallots chopped

1 Onion diced - large

3-4 rashers of bacon chopped

Handful of mushrooms chopped (Qty up to you)

2-3 stalks of celery chopped

2-5 cloves of garlic chopped fine (Qty up to you)
Instructions
Put all ingredients in slow cooker & cook on high 4-5 hours stirring a few times. (If using full chicken, pull the bones out, flesh should fall off).

Serve with mashed potato & veggies.
Notes
Leftovers I make into small pies. I have small individual pie tins. Line with puff pastry on bottom of pie dish. Place Potato & Leek Chicken in & top with mashed potato & sprinkle grated cheese on top. Put puff pastry on top & press down edges with fork. Brush milk on top & put in moderate oven until brown. (Mine I have to take out of the tins & flip over to cook the bottoms).