Submitted by Cheryl Ellem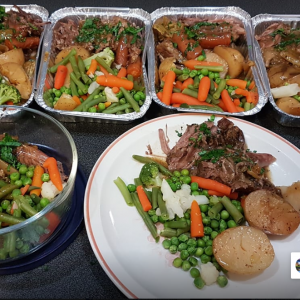 Pot roast
It will literally melt in your mouth.
Ingredients
11/2 kg chuck steak,

oil,

2 tb salt,

1tb peppercorns,

1ts paprika,

1tb each of dried rosemary and thyme,

3 onions,

4 carrots,

4 celery sticks,

3 cloves garlic,

1/2 cup beef stock,

cornflour and water,

parsley to garnish
Instructions
Coat both sides of meat with oil, rub in. Add salt peppercorns, paprika, rosemary and thyme into grinder or mortar and pestle, sprinkle some of this mix over both sides of meat.

Heat pan, put oil in and sear both sides of meat, then put meat in the slow cooker,

Heat the pan again, put veg in and a bit more salt mix in, stir 3-4min, then put the veg on top of meat in slow cooker,

Put the garlic cloves and the rest of salt mix into slow cooker and add the beef stock,

Cook 9 hrs on low or 5-6 hrs on high, use a baster a few times over the top to keep moist.

Take meat out carefully and the veg, put the juice from the cooker into a saucepan, heat and mix in the cornflour and water mix to thicken,

Serve with gravy and top with parsley.