Submitted by Carol Wilkinson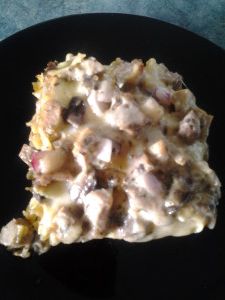 Pork & Mushroom Lasagna
Ingredients
4 cups Pork diced

1 Red onion diced

200gr Mushrooms sliced

1 teas Parsley flakes

2 teas Minced garlic

1 Jar Dolmio Mushroom pasta sauce

1 pkt Lasagna sheets

3 cups grated cheese
Instructions
Spray SC with oil.

Mix all the ingredients together in a large bowl except the Lasagna sheets & cheese.

Layer Lasagna sheets,then meat mix,then a layer of cheese,repeat process.

Put a nice amount of cheese on last layer.

Then spoon 3 tblsp of water around edges this will help soften pasta.

Place lid on (no tea towel)

Cook on Low for 3 hrs or until cooked!!!