Submitted by Yvonne Unthank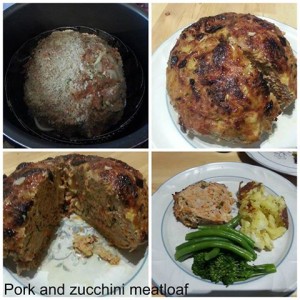 Pork and Zucchini Meatloaf
Ingredients
500g pork mince

250g sausage mince

2 eggs

2 small / medium grated zucchinis

1 medium grated carrot

1 onion - finely cut

a heaped tsp of garlic paste

1/2 tsp of grated ginger

1/2 cup of panko crumbs (or regular bread crumbs)

3 tbs pf SPC plum sauce

1 tsp of soy sauce

1 tsp of chicken stock powder

extra panko crumbs for rolling
Instructions
Mix all ingredients together and form a ball shape - rolling in more panko crumbs to make it easier to handle.

(You can add things in the middle if you like - I put layer of cheese in the middle but would be nice without it too)

Sit in slow cooker on top of a steamer basket or a raised surface to let the fat drain out.

Cook on high for 4 hours or low for 8 hours

Pull out of cooker - cover in a nice chutney (I used an Aldi cranberry and red onion chutney - Yummo)

Put under grill part of oven until browned.

Enjoy....