Submitted by Judy tiziani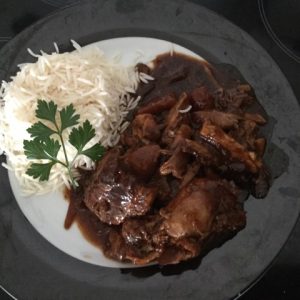 pork adobo tagalog style
Ingredients
Approx 8 pork rashers/ribs cut into strips

2 onions sliced

1 tblspn minced garlic

2 good teaspn of minced ginger or about 1 inch grated ginger

3 - 4 med potatoes cubed

2 bay leaves

2 teaspns chicken stock powder

1/2 cup water

3/4 cup soy sauce

1/4 cup ketchup manis (sweet soy)

1/4 cup apple cider vinegar (you can use any vinegar but this is nicer)

3 tblesp brown sugar

1/2 teasp black pepper

Salt not needed because of the soy.
Instructions
Pour everything except the meat into the slow cooker. Mix it well. Add meat and stir to coat

Cook on low for 6 hours approx

When cooked take out the meat and simmer the sauce until it thickens. (Added some cornflour blended with water for quicker result)

Put the pork back into the slow cooker and serve with rice.

This can be made with chicken pieces in with the pork, or chicken alone but not breasts - they tend to dry out.

Is nicer next day.