Submitted by Nikki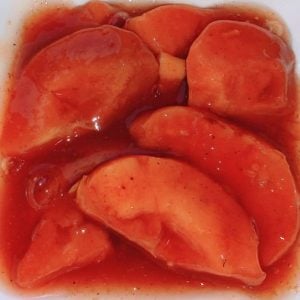 Poached Quince
You can enjoy these on their own, add custard and ice-cream, place on your morning cereal
Ingredients
2 large quince

1/2 a lemon

2 cups boiling water

1/2 cup caster sugar

2 star anise

4 whole cloves
Instructions
Either peel or rub skin of quince if not peeling. Cut into half or quarter and remove core. To remove the core, you can scoop with a teaspoon if leaving in half, or cut out if in quarters. Note quinces can be quite hard inside around the core. Rub the lemon over the surface of the quince to prevent browning.

Place the boiling water, caster sugar, star anise and cloves into the cooker. Squeeze the juice from the half lemon in. Give it a stir then place quince in making sure it is covered by liquid.

Cook on high for 3hrs. I used my 3.5 litre for this.

If you like you can thicken the liquid with a little arrowroot at the end to the consistency you prefer. Note I use arrowroot as it doesn't change the colour of the liquid but you can use cornflour as well.

— Notes

Inspired by a Nigel Slater recipe.