Submitted by Elli McDonald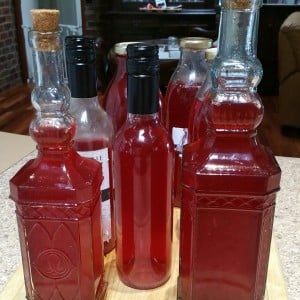 Plum Cordial
Ingredients
1kg Davidson Plums (Davidson plums are fruit from a rainforest tree which grow in certain areas in Australia. They are not a real plum and are VERY sour)

1 litre Apple Cider vinegar

2 litres water

Sugar

1 tablespoon grated Ginger

1 Star Anise
Instructions
Put Plums and Cider Vinegar in sc. I used a 6 litre sc.

Cook on low for 3 hours.

Add water.

Cook on low for another 3 hours.

Turn off slow cooker and leave overnight.

Then strain liquid through muslin lined sieve into a large saucepan. Add ginger and star anise and sugar. (1 cup of sugar for each cup of liquid.).

Bring to a simmer and simmer 15 minutes.

Bottle in sterilised bottles.