Submitted by Stephanie Poole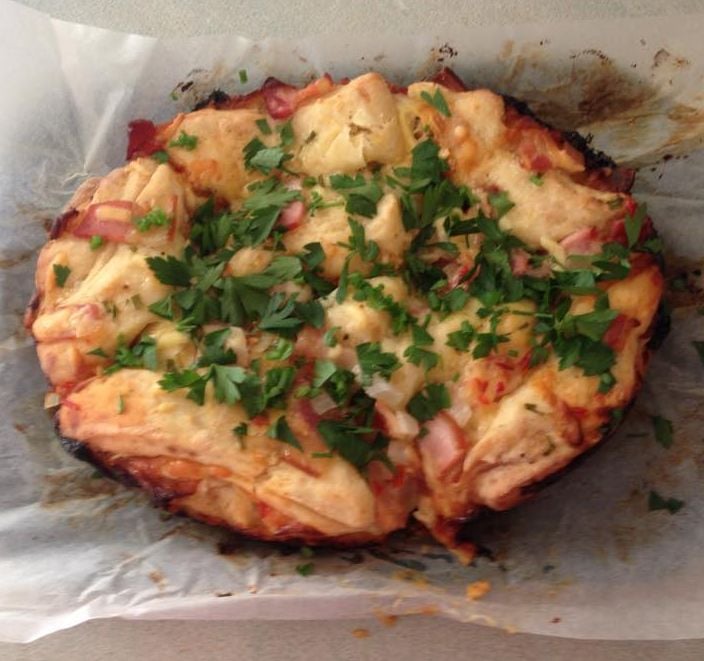 Pizza Bread
Ingredients
Dough Ingredients:

2 Cups of warm whole milk

1/2 Cup olive oil

1 teaspoon sugar

1 teaspoon salt

4 cups of plain flour (plus 1/2 cup extra, set aside)

1/2 heaped teaspoon baking powder

1/2 teaspoon bi-carb soda

1/4 teaspoon italian herbs

1/2 teaspoon garlic powder

7 grams yeast

Filling ingredients:

Sweet chilli sauce

Grafted cheese

Onion, diced & raw

Bacon, diced & cooked

Chives

Parsley

Salt & Pepper to taste

You can use as much or as little as you want in the filling and keep some for over the top of the mixture
Instructions
Mix the milk, olive oil and sugar in a large bowl.

Sprinkle over the yeast - don't mix.

Let this sit for 10 minutes then add 4 cups of plain flour, sifted.

Now stir the mixture together.

Cover and set aside and let rise in the bowl for at least an hour.

After rising for at least an hour, add 1/2 more cup of flour, baking powder, bi-carb soda, salt, 1/4 teaspoon Italian herbs and 1/2 teaspoon garlic powder.

Knead dough for a couple of minutes on a floured surface.

Roll the dough out on a lightly floured surface into a large rectangle about 1/4"thick. (You will need to cut the dough in half as there is a lot but you can freeze for next time.)

Spread sweet chilli sauce all over with a spoon, add the grated cheese, onion and bacon. Add some chives and salt and pepper. You could also add a sprinkle of garlic powder and Italian herbs.

Roll the dough up like a swiss roll and with a sharp knife cut into slices.

Place into a pre-heated slow cooker with baking paper on high for 2 hours with a tea towel under the lid.

Add more cheese, bacon and onion over the top and drizzle with a little more sweet chilli sauce and then serve with fresh parsley.