Submitted by Rebecca Edwards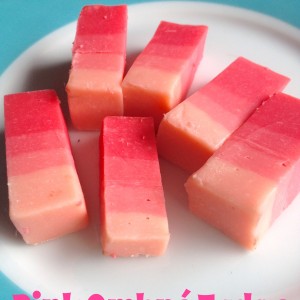 Pink Ombré Fudge
Ingredients
2-4 bags/blocks of good quality white chocolate (depends of the size of your loaf pan)

1-2 tins of condensed milk (1 tin per 2 bags/blocks of chocolate)

Red food dye

1 tablespoon of butter

Vanilla extract
Instructions
*P I N K O M B R E F U D G E*

My children ( and you lovely people) have loved my frozen fudge and my super popular rainbow fudge and here is my next fudge creation.

Ombr is a popular trend with birthday parties and room decor on Pinterest. Fudge seemed the next step!

I used two bags of Cadbury White chocolate drops, a tin of sweetened condensed milk, a tablespoon of butter and a dash of vanilla extract.

I stirred every 15 minutes or so for about 90 minutes on low heat.

I transferred a small amount to a ceramic bowl and tinted quickly with 8 drops of red food dye.

I then transferred to lined loaf pan and placed in the fridge. Wait about 10-15 minutes before next layer. At this stage change heat setting to keep warm. Stir mixture in SC.

Repeat process with double the amount of food dye as first layer until you've achieved colour scheme. Finally in fridge to set for a few hours.

Note: depending in the size of your loaf pan, you may need an extra bag of chocolate.