Submitted by Felicity Barnett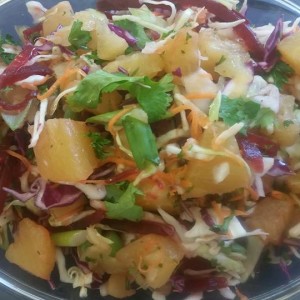 Pineapple Compote
Ingredients
Approx 8 cups of Pineapple, peeled, cored and cut in bite size chunks (2cm) (2 Whole pineapples)

1/4-1/3 cup Brown Sugar (depending how sweet your pineapple is)

1 tspn Cinnamon or 1-2 Cinnamon sticks
Savoury Options
1 cup Red Cabbage, grated

1 cup White Cabbage, grated

1 cup Beetroot (Whole, cooked), finely sliced in sticks - Slow Cooked Roast Beetroot

2 Spring Onions, sliced

Handful of Cilantro (Coriander), shredded

Lime juice
Instructions
Stir the pineapple, sugar and cinnamon together in slow cooker bowl.

Cook on high until soft (approx 2hrs).

Remove lid at around the 1-1.5hr mark if there seems to be a lot of liquid.

Can be served warm or cold. Will keep in fridge for 4-5 days in a firmly sealed container.
Savoury Option 1 SALAD (pictured)
Toss 1-1.5 cups pineapple with cabbage, beetroot, spring onions and cilantro.

Mix lime juice with 2 tblspns of pineapple juices and drizzle over salad.

Serve as a side salad with roast pork, pulled pork, pulled chicken, grilled chicken or steak.
Savoury Option 2 RELISH
Combine 1-1.5 cups pineapple with Cilantro (Coriander) and lime juice.

Serve as an accompaniment to roast pork, pulled pork or pulled chicken.
Dessert Option
Serve with ice cream, yoghurt or sorbet.