Submitted by Felicity Barnett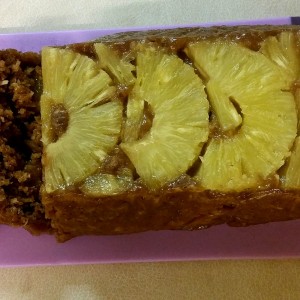 Pineapple and Coconut Cake
Ingredients
1 cup GF Self Raising Flour

1 cup Dessicated Coconut 

1 cup Coconut Sugar

1 cup Coconut Milk

5 thin slices fresh Pineapple, cut in half
Instructions
Combine dry ingredients and stir in milk.

Line loaf tin with baking paper.

Place pineapple halves (approx 5) in bottom and cover with half the cake batter.

Place remaining pineapple slices on batter and cover with the remaining cake batter.

In slow cooker bowl place two egg rings and about 3cm of water.

Place tin on egg rings in slow cooker bowl.

Cook on high with a tea towel under the lid for 2hrs 20min in Crockpot 3.5L sc.

I checked with a skewer from the 1hr 45min mark at approximately 30min intervals.

When skewer comes out clean remove from slow cooker and let sit for 5mins before turning out on a wire rack to cool.
Notes
Dairy, Egg, Gluten, Lactose and Soy free