Submitted by Robyn Clark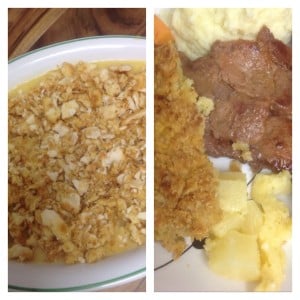 Pineapple and Cheese side dish
Ingredients
1 tin pineapple chunks

1/4 cup pineapple juice

3 Tablespoons plain flour

1 cup grated cheese

1/2 cup sugar

2 eggs

1/2 cup crushed Ritz biscuits

1/3 cup melted butter
Instructions
Mix all the ingredients together and place in a casserole dish to fit in your Slow Cooker.

Add the crushed ritz biscuits mixed with the butter over the top.

Cook on high approx 1 1/2 to 2 hours until set. Depends on your SC.

Use a tea towel under the lid to stop condensation falling on the mixture.

When done place under the griller to add some crunch to the topping.

Great side dish to serve with pork steaks ,mashed potato and green beans.