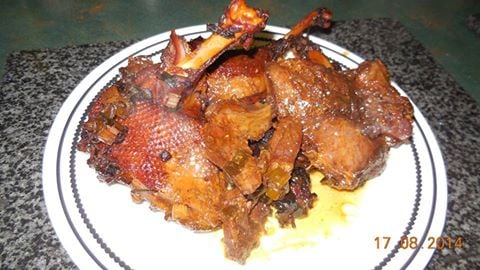 Peking Duck
Ingredients
Duck pieces

1 cup boiled water

1/4 cup of honey

Spring Onions

Chinese 5 spice

Equal parts of Cinnamon, Garlic, Fresh Ginger and Salt & Pepper

Soy sauce
Instructions
1. Wash the meat under cold water.

2. Place 1 cup of boiled water in a bowl with 1/4 of a cup of honey... put my pieces of duck in it. (this will make the skin of the duck go brown when cooking)

3. Cut up a bunch of spring onions and put them at the bottom of my slow cooker.

4. Put my pieces of duck on top of the bed of spring onions in the slow cooker and pour over the top the water with the honey.

5. I then put "Chinese Five Spices" (however much you want for taste.

6. then put equal parts of Cinnamon, Garlic, Fresh Ginger and Salt & Pepper. (Again however much as per your taste).

7. I drizzled a bit of Soy Sauce on all pieces.

I let it cook for 5 hours on LOW ... but it could have been ok for a little less as the duck was in pieces and not whole. I did not open the lid only once half way through the cooking I turned my duck pieces over but again that was not necessary.

I did baked potatoes, baked pumpkin, baked sweet potatoes and baked carrots to go with the duck.