Submitted by Nathalie Madden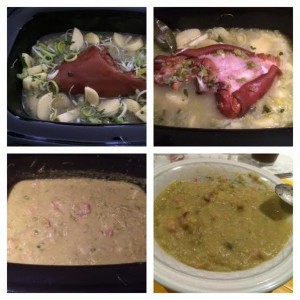 Pea & Ham Soup
Ingredients
1 x tablespoon olive oil

1 x finely chopped small brown onion

2 x garlic cloves, crushed

1 x leek, sliced (white part)

2 x sticks celery, diced

3 – 4 medium sized potatoes, peeled, diced

650g ham hock

1 1/2 cup green split peas, washed, rinsed (rinse until the water is clear)

3 - 4 cups salt-reduced chicken stock

½ litre of cold water (depends on how thick you want the soup to be)

1 x dried bay leaf

Chopped fresh flat-leaf parsley, cracked pepper and crusty bread, to serve
Instructions
1. Add olive oil, onion, garlic, celery, leek, potatoes, ham hock, peas, stock, bay leaf and 1 liter cold water. Cover with lid.

2. Cook on low for 6 hours.

3. Remove hock from soup. Discard the bone.

4. Shred ham. Return ham & rind (I think that this adds extra flavour) to soup. Cook on low for 1 hour or until ham and peas are tender.

5. Remove and discard of rind.

6. Use a stick blender to blend together, but try and leave some chunky bits of potato and ham

7. Serve with parsley, cracked pepper and crusty bread.

8. ENJOY!!