Submitted by Lynn Hastie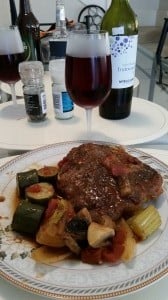 Osso Bucco with a Mexican twist
Ingredients
2 pieces of osso bucco cuts

1 tin of diced tomato

1/2 jar taco sauce (mild or hot)

Plain flour

Garlic & herb salt

Black pepper

1 packet of taco seasoning mix

2 tsp oregano

1 cup red wine

Beef stock (for this recipe I used a teaspoon of Bonox mixed in a cup of boiling water)

2 stalks celery

2 zucchini

Mushrooms

1 brown onion
Instructions
Put flour into large bowl / plate, season with garlic salt & black pepper. Coat osso bucco cuts, shaking off excess flour.

Sear in pan for 3 minutes each side until sealed, put aside.

In a large mixing bowl, combine diced tomatoes, taco sauce, taco seasoning mix, red wine, bonox mix and oregano.

Chop celery, zucchini, onion & mushroom into chunks and place in bottom of slow cooker. Add seared osso bucco and tomato mix to slow cooker and cook on low for 6-8 hours.

Serve with a glass of your favourite red wine and enjoy!