Submitted by Larell Adney Strickland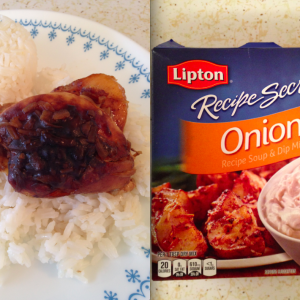 Onion Chicken (Weight Watcher Friendly)
Ingredients
6 or more boneless, skinless chicken thighs

1 packet Lipton (or any brand) Dry Onion Soup Mix (use 2 packets if more than 6 thighs)

1/2 cup water
Instructions
Place boneless, skinless chicken thighs in slow cooker with 1/2 cup of water.

Sprinkle 1 packet of Lipton (or other brand) Dry Onion Soup Mix on chicken (also comes in Mushroom flavor).

Cook on Medium for 4 hours and Voiladinner is served! (Doesn't taste like onion to me.)

Weight Watcher PP = 1 thigh weighing 3 oz (84g) is 5PP; 1/2 cup (88g) white rice is 3PP.