Submitted by Robyn Clark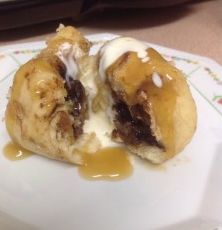 Nutella Caramel Sweet Bread
Ingredients
2 Cups Plain flour

1 sachet yeast

1/2 teaspoon salt

1/4 Cup butter

1/4 Cup sugar

3/4 Cup milk

2 eggs

1 1/2 Cups Plain flour

Nutella

Caramel sauce ( I used bottled , but you can make your own)
Instructions
Mix the yeast and the 2 cups of flour together.

In a saucepan melt the butter, sugar and milk until just warm.

Add to the flour and yeast and mix well. Add the eggs one at a time and mix well.

Add remaining 1 cup of flour ( keep the extra half cup to flour the board and knead in) .Turn out on a floured board and knead well, approx 5 mins. ( you can use an electric mixer with the dough paddle on.) Place in a glass bowl , cover with glad wrap and a tea towel. Set in a warm place and allow to rise for an hour or until doubled in size.

Roll into 16 balls and using your thumb make a shallow hole and place in a teaspoon of nutella . Press the balls shut like a dumpling. Place close together in your lined and greased SC . Pour caramel sauce over the rolls and then sprinkle with sugar. Cook on low with a tea towel under the lid for approx. 20 mins. This allows the dough to rise again. Switch to high and cook a further 1 to 1 1/2 hours.

Lift out using the baking paper and serve with Ice Cream and more caramel sauce or cream.