Submitted by Lisa Casey.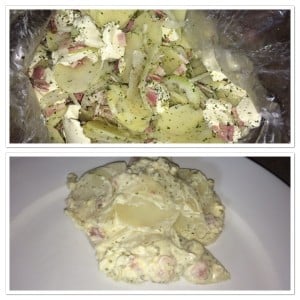 No mess potato bake
Ingredients
4 large potatoes peeled and sliced,

1 onion peeled and sliced,

3-4 rashers of bacon chopped,

250 grams of cream cheese chopped into small bits,

1 tsp crushed garlic,

1 tsp of dried parsley,
Instructions
Place everything into an over bag and shake the bag gently to mix everything together

Tie bag up and place in SC.

Add a cup of water to the SC, (not into the bag) cook on high for 3-4 hours.

Please note, this recipe doesn't have to be done in an oven bag. I find it a lot easier and a lot less messy.