Sweet and salty goodness ?
Submitted by Hannah Straw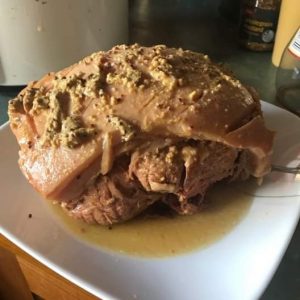 Mustard & Maple Pickled Pork
Sweet and salty goodness ?
Ingredients
A hand of pickled pork (any size that will fit your cooker)

3/4 Cup Maple syrup

3T Dijon Mustard

3T Wholegrain Mustard

1/4 Cup Malt Vinegar
Instructions
Place your hand of pickled pork in slow cooker

Mix Mustards and use enough to coat fat layer of pork

Add maple syrup and malt vinegar

Put on low for 8 hours

Baste pork with cooking juices every so often

Add a splash of water if needed to increase fluid through cooking process

Enjoy!