Submitted by Mel Shenton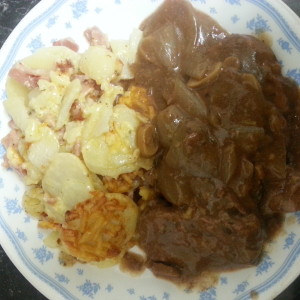 Mushroom Steak
Ingredients
2 big rump steaks cut into 4 smaller steaks

1 can of cream of mushroom soup

1 1/2 cups of beef stock

1 brown onion cut into 8 pieces

And half a tin of champion mushrooms

3 heaped teaspoons of instant gravy powder

3 crushed cloves of garlic
Instructions
Place everything, except gravy powder into the slow cooker, give a gentle stir through.

Cook on high for 4 hours.

In the last 1/2 hour, remove lid and add 3 heaped teaspoons of instant gravy powder and stir through gently. Leave lid off.

Once the 1/2 hour is up, serve with your choice of sides.

We served with potato bake.