Submitted by Maria bateson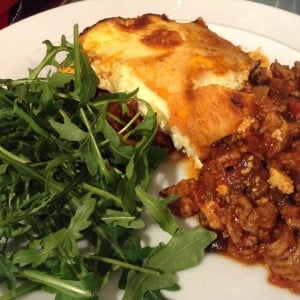 Moussaka
Ingredients
1 thinly sliced potato (optional)

1 thinly sliced and fried aubergine/eggplant

1 diced onion

2 minced garlic gloves

500g lamb mince

1 tbsp flour

Tin chopped tomatoes

200ml vegetable stock

1/2 tsp ground cinnamon

1 tbsp tomato purée

Salt and pepper
For the topping
3 eggs

250g natural yoghurt

100g feta

Nutmeg to grate on top (optional)
Instructions
Brown mince and onions in a pan, then add tomatoes, garlic, flour, stock, cinnamon, tomato pure and seasoning. Transfer to slow cooker. Lay the aubergine and potato on top to cover the sauce.

Cook on low for 8 hours.

For the topping, mix the ingredients together in a bowl and then pour over the top of the aubergines, use a spatula to ensure total coverage, grate nutmeg on top if desired.

Cook on low for 1 hour.

Brown under a grill for 20 mins.