delicious…and full of flavors..
Submitted by Johanna Buijsen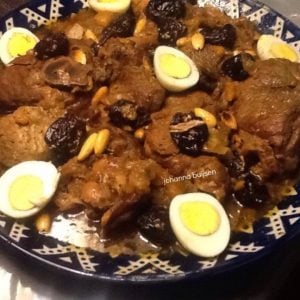 Moroccan Lamb dish
delicious...and full of flavors..
Ingredients
1 tablespoon butter

1 tablespoon olive oil

4 onions cut into rings

1 teaspoon cumin powder

1 teaspoon ginger powder

1 teaspoon of turmiric

1 teaspoon cinnamon powder

1 teaspoon paprika powder

1 teaspoon of black pepper

1 teaspoon salt

7 dried abricots

handfull of roasted almonds

12 dried prunes

2 hard boiled eggs

2 kg lambs meat...
Instructions
In a saucepan place the olive oil and the butter...fry the meat on both sides....mix the herbs with a half cup op boiling water... add these to the meat ....and also add the onions which you cut up in slices....mix this thoroughly together

Place this all in your slow cooker...with the apricots and sultanas cut in little pieces

Add 1/2 cup of lamb broth

Leave to cook at least 5 to 6 hours on low...depending on the quality of the meat...

Meantime place your prunes on the stove with a little water add some sugar and cinnamon and cook on low until they have reached the volume of fresh prunes.

Roast the almonds by placing the almonds in boiling water ...remove the skin...dry them with kitchen paper...and roast them in a little oil until they have a golden colour

Serve the meat from the slow cooker onto a plate....with the roasted almonds...and the prunes and the cooked sliced eggs.

Just dip with your fingers with fresh warm bread in the dish.