Submitted by Maxeem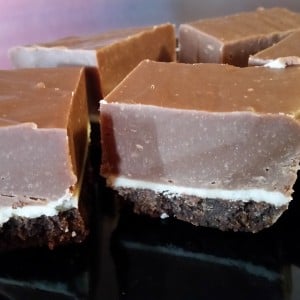 Mint Slice Fudge
Ingredients
1 packet Choc ripple biscuits crushed (any chocolate cookie will do)

125gms butter, melted

240gm icing sugar

1/4c heavy cream (thickened or double will work too)

56gms soft butter

1/2tsp peppermint essence

2 x 200gm blocks of Coles Choc Mint chocolate (Plain chocolate will do, I only used these as I had them on hand)

1 x 200gm Cadbury Peppermint chocolate

1 can of condensed milk
Instructions
Biscuit base
1 packet Choc ripples crushed (Any chocolate cookie will do)

125gms butter, melted

Combine melted butter and cookies and mix until combined.

Once combine, place in a lined square cake tin and press down firmly.

Place in the fridge to set.

Once set spread the peppermint cream over and place in the fridge to set while fudge is cooking.
Peppermint cream
240gm icing sugar

1/4c heavy cream (thickened or double will work too)

56gms soft butter

1/2tsp peppermint essence

Place ingredients in a plastic jug and mix with a mixer until combined and creamy.

Place aside until needed
Choc mint fudge
2 x 200gm blocks of Coles Choc Mint chocolate (Plain chocolate will do, I only used these as I had them on hand)

1 x 200gm Cadbury Peppermint chocolate

1 can of condensed milk

Break up the chocolate bars and place in the slow cooker along with the condensed milk and cook on high for approximately 60-90 minutes (Depending on your slow cooker). Stir every 15 minutes with a metal or plastic spoon.

Once your fudge starts looking like it's cracking when you stir it then it's ready.

Once fudge is cooked pour over your biscuit/cream base and refrigerate until set