Submitted by Simon Christie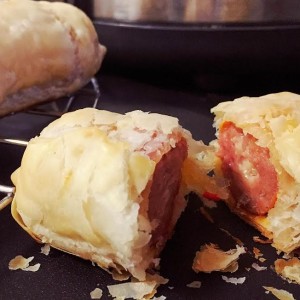 Mini kabana dogs
Ingredients
1 cheesy kabana (or smoked sausage of choice)

1 sheet puff pastry

1 whole egg combined.
Instructions
Line base of cooker with baking paper

Turn cooker on HIGH

Trim kabana ends

Cut kabana into 4 equal portions (quarter)

Cut one sheet of pastry per kabana into quarters

Baste(brush) one end of each pasty with egg.

Roll each piece of kabana in each separate piece of puff pastry

Press roll edge with knife and fold any excess edges in

Baste whole dog with egg

Place in lined cooker without touching sides or each other

Place tea towel and lid on for HIGH for two hours.

Remove and sit for ten mins and devour!
Note
Read your puff pastry instructions for best results

Just like Puffy Dogs ... but better!