Submitted by Samantha Shearer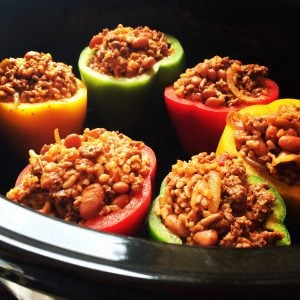 Mexican Stuffed Capsicums
Ingredients
500g Beef Mince

1 Brown Onion - finely sliced

3 tsp Mexican Chili Powder

425g Mexe-Beans

300g Salsa

2 cups Brown Rice - cooked

Large Handful of Shredded Mozzarella

plus a little extra for the end

6 Capsicums/Peppers
To serve (optional) -

Fresh Coriander

Avocado - diced

Tomato - deseeded & chopped

Lime Juice
Instructions
Spray frypan with some oil - sweat off onions - add mince - stir in Mexican chili -

lightly brown and let spices release - put aside to cool slightly.

In a large bowl combine the beans, rice, salsa, cheese and mince mixture & mix together really well.

Chop the tops off the capsicums/peppers, slice gently down insides to remove

membranes and seeds - fill the capsicums as much as you can with the mixture.

Spray the inside of your cooker with some oil - stand filled capsicums/peppers up

Lid on - turn cooker to low - 4 hours (just keep an eye on them as all cookers cook at different rates).

For the last 10-15 minutes put some more shredded mozzarella on the top of each

capsicum/pepper - lid on until melted.

To serve - mix all ingredients together and serve on the side.