Submitted by Jaime Murphy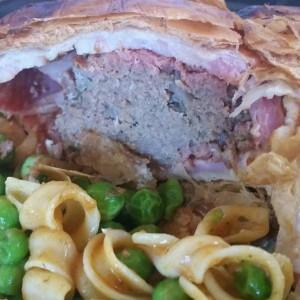 Meatloaf & Bacon Roll
Ingredients
250g beef mince

250g pork mince

1 grated carrot

1 grated onion

1/4 C frozen peas

1/4 C breadcrumbs

1 Egg

splash Worcestershire sauce

1 t mixed herbs

1/4 C BBQ sauce

4 rashes bacon

1 sheet of puff pastry

egg and milk to make a wash
Instructions
Mix first 9 ingredients and shape into a loaf.

Wrap loaf in bacon and smother in BBQ sauce.

Wrap in the pastry and brush with the egg wash, scoring the pastry for steam release.

Wrap the whole thing in alfoil and cook on low for 4 hours.

Remove foil and cook for another hour.

Brown in a hot oven for 5-10 minutes.

Slice and serve.