Delicious Family Friendly Meal
Submitted by Cassandra Jennings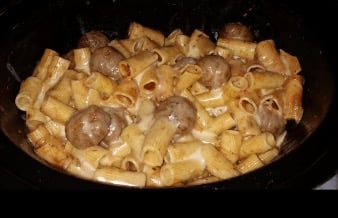 Meatball Pasta Bake
Delicious Family Friendly Meal
Ingredients
• 1 x 500g Bag of Pasta Shells (Your Choice)

• Meatballs (Prepackaged from supermarket)

• Grated Cheese

• Pasta Bake Jar Sauce

• Chopped Onion
Instructions
1) Half brown onion and meatballs in a frypan.

2) Place both inside your slow cooker.

3) Pour Pasta Bake Jar Sauce (Your Choice of Flavor) over the top plus one jar of water.

4) Cook on high for 3 hrs.

5) Boil Pasta Shells on your stove but only half cook them. Rinse them off this removes starch and place them ontop of your meatballs in your slow cooker.

6) Stir Gently, Combining it altogether.

7) Place grated cheese over the top and place slow cooker lid on top of your cooker. Turn your slow cooker off as the cheese will still melt without leaving it on.

8) Leave for 30 minutes ....

Serve it up to your loved ones xxx Enjoy!