Submitted by Sandra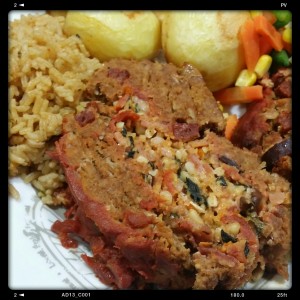 Meat Roll with Spinach and Bacon stuffing
Ingredients
MINCE

125g Chorizo Sausage

1 onion

1 clove garlic

1 egg

500 beef mince

300g lean pork mince

1 cup fresh bread crumbs

2 tsp tomato sauce

2 tsp sweet Chilli sauce

1 tbsp plain flour

1 tsp salt

GLAZING

1/2 cup diced tomatoes

1 tbsp tomato paste

1 tsp salt

1 tsp sugar

STUFFING

1/4 cup pitted Kalamata olives

1/4 cup semi - dried tomatoes

3 tbsp pine nuts

120g rind less bacon

60g baby spinach leaves

1 egg

1 tbsp plain flour

5 tbsp grated parmesan
Instructions
Finely chop Chorizo. Grate onion. Crush garlic. Whisk egg. Place all in bowl with mince, bread crumbs, tomato sauce, Chilli sauce, flour and salt. Combine well, set aside and start stuffing.

Chop olives, semi - dried tomatoes, pine nuts and Bacon place into a bowl. In a separate bowl pour boiling water over spinach leaves for 1 minute. Then once cooled drain and squeeze excess water. Finely chop and add to bacon mixture. Add egg, flour and parmesan.

Spread out the mince mixture onto a piece of cling wrap. Spread stuffing on top. Then roll into a log. Pressing together the ends. Slowly transfer to slow cooker.

Mix together the glazing ingredients and coat the meat roll.

Cook with lid on for 4 hours high or 7-8 hours low.

Slice meat in cooker or remove with extra care and slice.