Submitted by Carol Wilkinson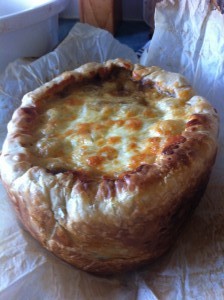 ~~Meat Pie with a Twist~~
Ingredients
750g premium beef mince

1 Large diced onion

1 can of cream of mushroom soup

1/2 Cup of Water

1/2 Pkt of Continental Shepard's Pie Powder

1Tbs Worcestershire sauce

2 sheets of puff pastry (More if you have a larger SC)

1/2 Pkt potato gems (More if larger SC)

2 cups of tasty cheese

Sprinkle of nutmeg

(Baking paper & cooking oil)
Instructions
Spray slow cooker with cooking oil.

Line SC with baking paper. Line with the Puff Pastry, then put lid on so that the pastry don't dry out.

Fry mince & onion in frypan, you may need to drain juices if any.

Sprinkle sachet of Shepard Pie powder mix, can of mushroom soup, the 1/2 cup of water & the 1 Tbs of Worcestershire Sauce, then sprinkle on nutmeg.

When all combined, spoon into SC sprinkle a bit of the cheese on top, then go around the edges 2 rows high, with the Potato Gems.

Fold pastry over these 2 rows of Pastry. Then layer the rest of the Potato Gems in the middle. Top with the remaining cheese.

Cover with Tea towel.

Cook for for 3 Hours on high, it will come out golden but you just need to put in oven for 10 just to brown the top.

My SC is a 3.5..So you might have to just gauge time with your SC

We had this with Chips & Salad~Delishhhhhous Pie...