Submitted by Caitlin Perks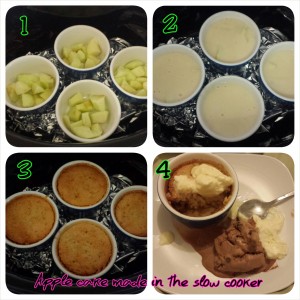 Marvelous Mini Apple Cakes
Ingredients
Home brand butter cake mix

4 Granny Smith Apples

250ml lemonade

*8 small ramekin dishes
Instructions
1. Cut up granny smith apples and place in the bottom of ramekins.

2. In a bowl mix the cake mixture and the lemonade together.

3. Spoon mixture into ramekins on top of the apple.

4. Place in the slow cooker (on aluminum foil or a rack of some sort so the ramekins are not directly touching the bottom of the slow cooker)

5. Cook on high for 1.5 hours with a tea towel under the lid.

Can alternate with other fruits, cake mixtures and softdrinks.