Submitted by Denise Roberts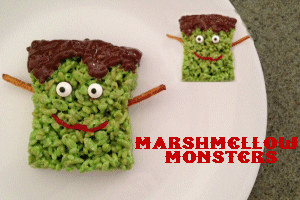 Marshmellow Monsters
Ingredients
3 TBL Butter

6 Cups Rice Krispies/Rice Bubbles

283g Marshmellows

Green Food Colouring

24 Candy Eyes

12 Pretzel Sticks (Broken in half)

1/2 Cup Dark Melting Chips

1/8 Cup Red Candy Melts/Red Writing Icing
Instructions
Place butter and marshmellows into the slow cooker on high and cover. Stir occasionally and cook until all melted with no lumps. Approx 40mins.

Once melted add as much food colouring as required until you get the colour you'd like.

Once food colouring is fully mixed through turn off slow cooker and add rice bubbles and gently stir through until fully combined and all ingredients are green and coated.

Place baking paper over a 9x9 tray and spray with oil.

Pour mixture over tray and using wet hands pat the mixture firmly into the tray and place into fridge to set firm.

Once cooled, cut into rectangles or squares.

Heat dark chocolate in a small bowl by microwaving for 40 seconds stirring and repeating until melted. Allow to cool for 2 mins.

Dip top of bar (hair) in melted choc and move back and forth for good coverage. Shake off excess.

Lay on baking paper.

Push pretzel half in each side to make arms.

Add a little of the melted choc on the back of the candy eyes and place onto bubble mix.

Heat red candy chips in bowl (same as the dark choc) and transfer to a small plastic bag and clip very tiny peice off the corner to use as piping.

Pipe mouths on each.

Leave to set and then enjoy!