Enjoy the taste of this Mediterranean delight!
Submitted by Marylou Marshall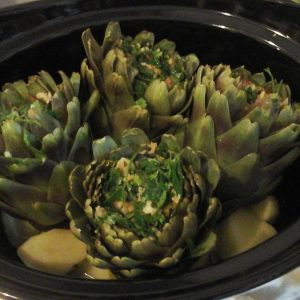 Maltese Stuffed Artichokes
Enjoy the taste of this Mediterranean delight!
Ingredients
4 large artichokes

2 large tomatoes

4 large green olives

3 tsp capers in brine

2 slices bread (crumblrsd)

Handful of fresh parsley, chopped

Handful of fresh garlic, chopped

2 tbls of olive oil

2 cups water

Crushed salt and black pepper

4 large potatoes (optional)
Instructions
Wash artichokes thoroughly by first banging them hard on the counter-top to help open up. With your thumbs, force the leaves open and wash thoroughly. Immerse them in a large pot of cold water and let them soak while you prepare the stuffing.

Place peeled and quartered potatoes in base of slow cooker.

In a large bowl, add crumbled bread, capers, chopped garlic, parsley, olives, tomatoes, salt and pepper and oil. Mix well.

Remove artichokes from water, shake well any excess water. Cut off stem below about 2 inches from artichoke. With thumbs, force the leaves apart some more until you have a deep whole in the middle. Fill each up with all the stuffing equally. Press the stuffing right in so they are packed generously.

Add water to potatoes and place artichokes between the potatoes in a way that they won't tip over and loose the stuffing.

Cover and cook on High for 6 hours.
Notes
This can be a little messy to eat but it's worth it. Keep an empty bowl near by to toss the remains of the leaves.

This can be served with tinned tuna in olive oil and fresh crusty bread to scoop up the stuffing. Artichoke leaves should be pulled between your teeth to scrape off the luscious pulp.

Enjoy the taste of this Mediterranean delight!