Submitted by Susan Kukola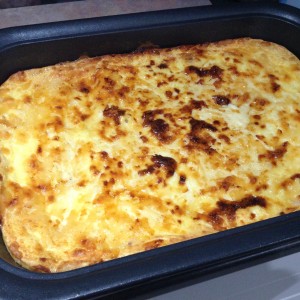 Maltese Pasta bake
Ingredients
About 2 1/2 cups spaghetti sauce,

500 grams ricotta,

2 cups milk,

4 eggs,

1/2 Parmesan cheese,

1 1/4 packets penne pasta that is already 1/2 cooked.

White sauce cheats way.

1 litre milk

1/3 Cup corn flour

3 eggs

1/3 cup Parmesan Cheese

Salt and Pepper to taste
Instructions
Mix pasta sauce, ricotta, 2 cups milk, 4 eggs, 1/2 cup Parmesan Cheese. Mix well. Then add half cooked Pasta and mix well again. Pour into sprayed Slow cooker.

Mix milk, corn flour add salt & pepper to taste. Whisk until corn flour is blended well. Microwave for around 8 minutes whisking every 2 minutes or so until thick.

Add eggs and 1/3 cup Parmesan Cheese and whisk well.

Pour onto pasta mix and sprinkle with extra Parmesan and grated cheese, cook on low for 3-4 hours depending on your slow cooker. With tea towell under lid.

If you wish to add grated veggies feel free too.

Brown top under Grill.