Submitted by Danielle Herlihy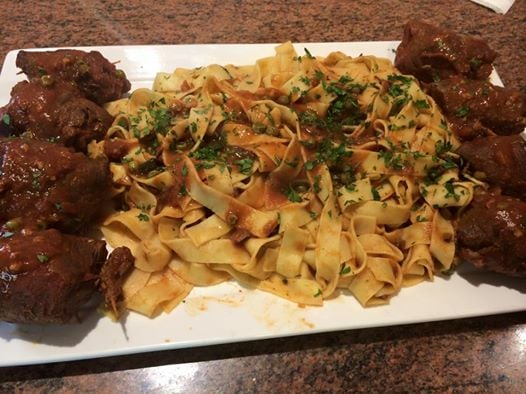 Maltese bragioli (stuffed beef rolls)
Ingredients
For the beef rolls:

8 x slices beef topside (you can also use veal if you wish)

1/3 loaf stale sourdough (torn up into small pieces)

4 x rashes chopped bacon

3 x cloves garlic (crushed or finely chopped)

3 x hard boiled eggs cooled down then roughly chopped

handful chopped fresh parsley

glug of olive oil

salt & pepper

For the sauce:

1 x tbs olive oil

1 x chopped onion

2 x cloves garlic (crushed or finely chopped)

2 x tbs tomato paste

1/4 cup of red wine

1 x bottle tomato passata

handful basil

1/2 tsp sugar

1 beef stock cube

1/4 cup water

1/2 cup frozen peas
Instructions
For the beef rolls:

Lay slices of beef on a long pice of baking paper. Lay another long piece of baking paper on top and gently pound the pieces of beef until they are nice and thin.

In a bowl, mix the bread, bacon, garlic, eggs, parsley, olive oil, salt and pepper.

Place 1-2 tbs of the mixture onto each piece of beef. Roll them tightly making sure you stuff any of the mixture that falls out back into the roll. Secure them with toothpicks.

Heat some olive oil in a fry pan until nice and hot and sear the beef. Once they are brown on all sides take them out of the pan.

For the sauce:

Heat olive oil in the fry pan and add garlic and onion. Gently fry until the onion is translucent. Add the tomato paste and cook that for about a minute. Add the red wine until almost evaporated, then add the passata, basil, sugar, beef stock cube and water. Bring to the boil.

Place beef rolls in the slow cooker and pour the sauce on top. Cook on low for 7 hours. At about 6 hours add the peas.

Serve with pasta and lots and lots of parmesan.

Please note that the beef rolls will shrink!