An easy yet awesome addition to any lunchbox. And as many variations as you can think up pizza toppings 🙂
Submitted by Paulene Christie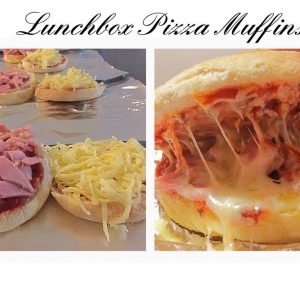 Lunchbox Pizza Muffins
An easy yet awesome addition to any lunchbox. And as many variations as you can think up pizza toppings 🙂
Ingredients
English Muffins (split) x 4

Pizza Sauce x 4 tbslsp

Diced Ham x 80g

Grated Tasty Cheese x 1 cup

*Optional* Add any additional pizza topping you like or can think of! See notes below.
Instructions
Split each muffin in half and lay on a square of aluminium foil

Spread both halves of muffin with pizza sauce

Top with ham and cheese

Close muffin and wrap up in foil

Place in slow cooker and cook on HIGH for 45mins
Notes
I had my foil parcels directly on the bottom of my metallic slow cooker insert. If I was using a ceramic cooker I would elevate the parcels on a trivet etc and add 1cm of water to base of bowl, under the trivet but not reaching the muffins. However in the metal slow cookers this isn't necessary.

Your imagination is the only limit for these bad boys! Add any pizza topping you usually enjoy - pineapple, mushrooms, capsicum, chicken, onion, bacon, anything!

The beauty of these are that I had them cooking away for my children's and husbands lunchboxes while we were all seated enjoying our dinner. No fuss, no mess, and done by the time we were done 🙂 Too easy!

Also great for meals on the road, at the park, or at sports or other family outings!